Long-term furnished office rental in Turin
ESTIMATED TIME FOR A LONG-TERM RENTAL OR LEASED OFFICE
Let's have a look at the most commonly used terms and the ideal target customer.
The typical client for a furnished office for periods other than one day is a professional or a company that prefers a space organised and ready at short notice than a classic rental, and all the complexities that the latter entails.
There are a lot of people who take advantage of furnished and equipped office spaces in Turin. They range from freelancers, to professionals, to the branch offices of medium-sized and large companies. We often have local units of multinationals that decide to open in Italy. Many of those who take advantage of the flexibility of leased offices in Turin have fully understood the advantages brought about by this solution: from managing pre-established costs to using organised spaces. By taking advantage of this solution, they relieve the company of a world of tasks that would take up time and resources that can be better used elsewhere. Perhaps in their core business.
Flexibility at its best!
Thanks to the flexibility of the spaces offered you will be able to enlarge the space and change the size of the office as the number of people working in it changes. Today there are two of you? Tomorrow there could be four of you? Or vice versa. The costs will always be proportional to the company's needs and measured by actual use.
Leased offices in Turin are suitable for many situations:
start-ups that do not want to rent or buy an office
disaster recovery, for temporary needs to keep the business going
short, medium or long term operation in Turin
alternative to traditional rental
the economic investment of buying an office is avoided
company resources are more efficiently used
costs can be planned, without unwanted surprises
Telephony, cleaning, fire protection, insurance… all these services and much more are delegated to the space manager, thus taking a lot of the burden off your shoulders. At the same time, costs are always optimised, as they are split over all users of the building. Each coworker or user of private offices and rooms will share the fixed costs of cleaning, broadband, and much more.
The economic advantage of a long-term furnished office compared to classic rental is often competitive for all the reasons listed above. Don't forget about organisation. A single contact person will quickly find a solution for any problem that may arise.
---
LEASING CONTRACT
Find below the contractual details for leased offices in Turin
The leased furnished office or long term furnished office contract grants you the exclusive and continuous use of one or more office rooms reserved for you. The choice of the office solution that best suits your needs may depend on the number of workstations you need. You will have access to the office at any time, any day of the year. In fact, with a personal badge, access is allowed 24/7. You can choose the duration of the leasing according to your needs. The standard office leasing contract will be adjusted and drawn to suit your needs. The validity of the contract is flexible: you can extend the term of the contract if necessary or be free to choose other solutions.
---
COST OF A FURNISHED OFFICE IN TURIN
These are the parameters that make furnished spaces in Turin more or less convenient
The cost of furnished offices changes substantially depending on the workstations required. For example, the period of use as agreed under the contract is very important. As is the number of workstations required. There are many variables linked to the optional services that can be provided together with a furnished office.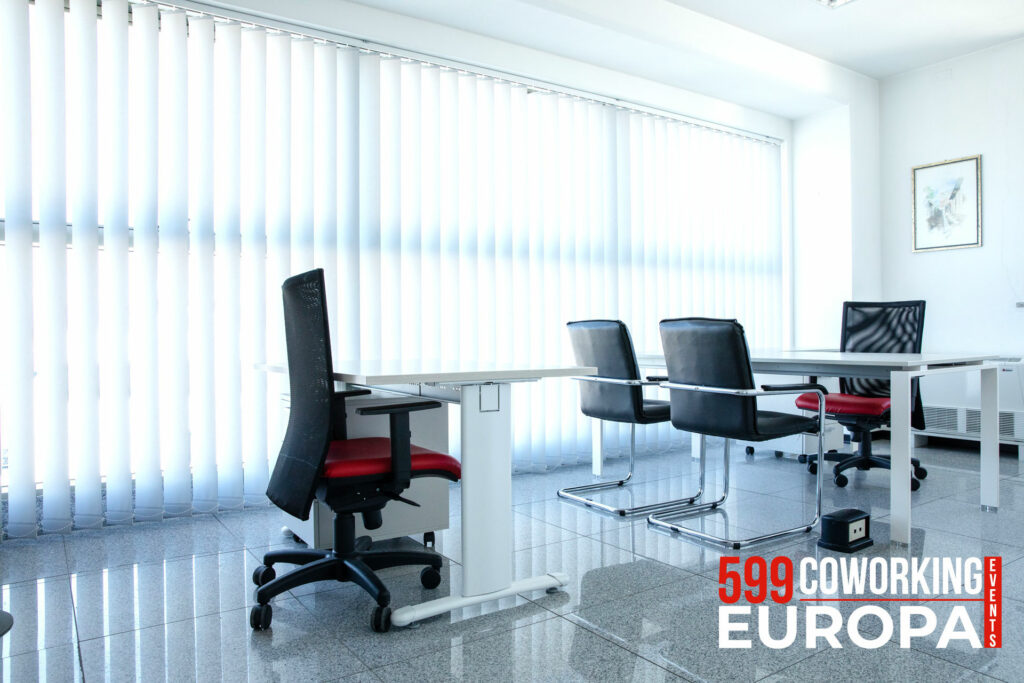 Here we will simply suggest ways of thinking about how to measure costs.
For example: an annual or six-month contract will certainly cost less per month than the same space but with a shorter contract term.
A single workstation office will certainly cost more than an office with several workstations if you think about the cost per desk per month. Those who use several offices with several workstations and a longer contractual term will certainly have an advantage in the cost per workstation. With these rules in mind you are now in a position to request a quote.
Services included
one working space
an ergonomic directional seat
reception service for guests
print MFC color A3
air conditioning
electric energy
cleaning and sanitation
WI-FI connection and high-speed wired network
corner break
free parking
Open Card with discounts
GDR ready
first aid and fire fighting personnel
Services on request
VoIP telephone for external calls
meeting rooms
domiciliation services