Day office in Turin?
Find out why it is such a popular solution!
Do you need day office in Turin for you or your company? You are at the right place!
Are you looking for an elegant and well-equipped space to spend a few days in an office in Turin? Need a support office for you work in hinterland Turin from time to time? Do you need to organise a round of interviews to recruit staff? Do you plan to be in the office in different Italian cities every other day? Are you looking for a place in Turin that is easy to reach by car for you and your potential clients?
599 Europa Coworking takes advantage of the flexibility of renting furnished spaces in Turin, and offers private and elegant spaces with the day office formula in Turin.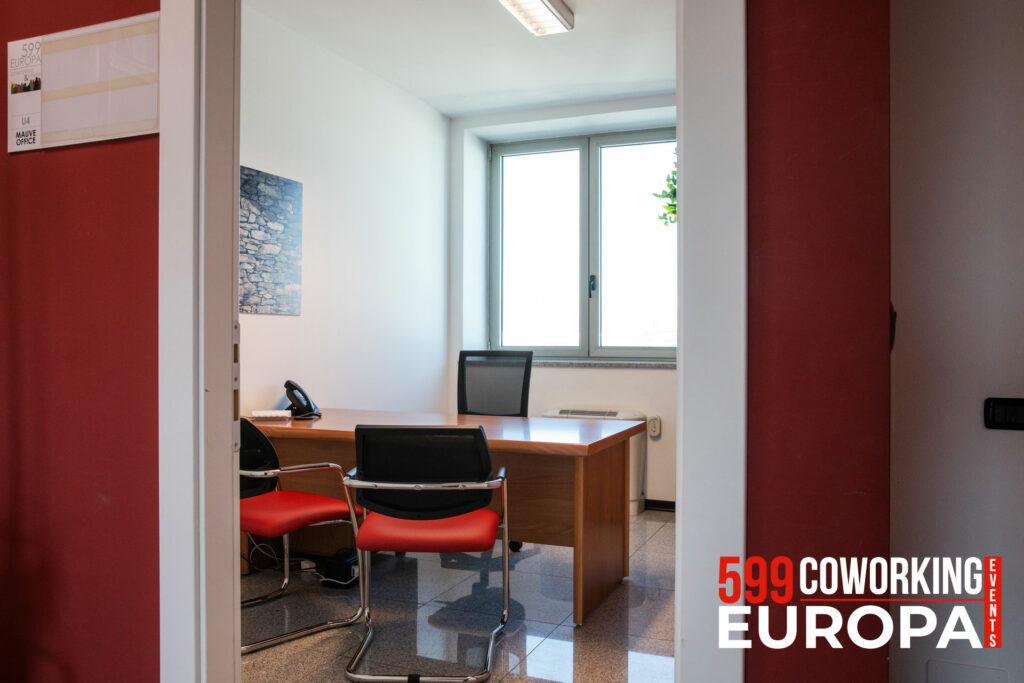 ---
WHY CHOOSE 599 EUROPA COWORKING?
Day offices in Turin: a valuable and flexible resource
The 599 Europa Coworking office centre in Volpiano is housed in a modern, elegant building. We are a well-equipped, ultra-technological office centre with a large parking area. On our premises you will find offices and warehouses under a classic rental system, as well as equipped and serviced spaces such as furnished offices and meeting and roundtable rooms.
Day offices are a growing trend in Italy and abroad. A practical option that has been recently discovered by many professionals and companies. A highly valuable resource for those who need to work often in professional, well-equipped and reserved locations, spread in different parts of the country.
A day office can be rented just for the time needed. It is a true 'pay-per-use' service. You can also manage your bookings by means of a pass with prepaid days. Thanks to this solution you will get only one invoice and one discount on the day office rental. There are 10-day packages that offer a substantial discount when renting a day office in Turin. Thanks to the prepaid system, you can also book days in other cities just by making a phone call or a few clicks.
---
DAY OFFICE: THIS IS WHAT IT'S ALL ABOUT
Let's look in detail what a day office in Turin means
Day office is a rental solution for a furnished office, the cost of which is split over a single day.
It is a solution used by many professionals. Among the users there are various types of companies, professionals or their staff that use the office occasionally. The typical use of this type of office rental is from time to time or sporadically. The rented space is normally used to meet clients, collaborators, or, sometimes, to recruit staff.
Those who use our day office rental service in Turin make the most of all the extra benefits included in the service.
In our Volpiano day offices, for example, we provide broadband connectivity via cable or Wi-Fi. Simply take your laptop with you and get connected to your office or the Internet. You will always find air-conditioned and sanitised premises. Inside the office space there are fixed seats for your guests, an executive chair at each workstation provided, as well as a chest of drawers, a standing closet, and a practical coat rack. You will be able to print and scan your documents on our A3 colour laser MFP (pay-as-you-go). The office comes with stationery, and if you need anything in particular, just ask the staff of our administrative office.
Do you want to know more about a day office? Watch this video that explains exactly what it is. Do you want to know the best way to choose the right office for you? There is multimedia content that explains that too!
---
SECRETARIAL STAFF
The services that can be managed in day offices in Turin at 599 Europa Coworking
The administrative office of the centre manages the access of both customers and guests to the spaces offered by the Volpiano Business Centre. In fact, this administrative office will organise your work in the Turin day office. The administrative office will be always able, if required, to manage the arrival of any guests according to your instructions. It can also provide the extra services needed to carry out your activities.
---
COSTS OF A DAY OFFICE
Let's take a closer look at what is included in the cost of a day office in Turin
The offices intended for day office use at our office centre have various configurations. Clearly, costs vary depending on the workstations, and the size of the office itself. There is also a fee for printing and scanning on a pay-per-use basis. Your laptop will be only thing you need to bring with you. Nothing else.
Find below the services that are included in a day office rented in Turin, as well as any additional options available.
Services included
one working space
an ergonomic directional seat
reception service for guests
print MFC color A3
air conditioning
clectric energy
cleaning and sanitation
WI-FI connection and high-speed wired network
corner break
free parking
Open Card with discounts
GDR ready
first aid and fire fighting personnel
Services on request
meeting rooms
domiciliation services
Do you want to know more about our offices? Or about our rooms? Would you like to customise certain aspects of the design of the spaces in which you will work or hold events? Would you like to know some specific contractual aspects in detail? Would you consider trying out the service? Would you like a personalised quote? Contact us at +39 0119953889 or +39 3669253261. Or write to us. We will be happy to clarify any aspect of our services.